oh, what a long weekend we have had in the dungan/plumer house hold. it was long, but beyond enjoyable. i honestly love my daughter & boyfriend more than i could ever imagine possible.
saturday: shopping, grad party, and the howard county fair
your girl right here was up and out of the house by 10am on friday. yes, me! the sleeping in queen..was up & at 'em bright and early for once, on a weekend at that! abby and i headed out for a girls morning at the mall. i picked up two new sun dresses at forever 21, two new headbands & a fresh pair of sunglasses. i just love every time i take abby into a clothing store, she sticks both arms straight out on each side of her stroller and feels all of the clothes run over her little baby fingers..she loves it, and so do i. we did a little bit of grocery shopping and for the love of god..if i
ever
say that i'm going to walmart on a saturday again..slap me. we got a couple quick necessities and got the hell out of that mad house.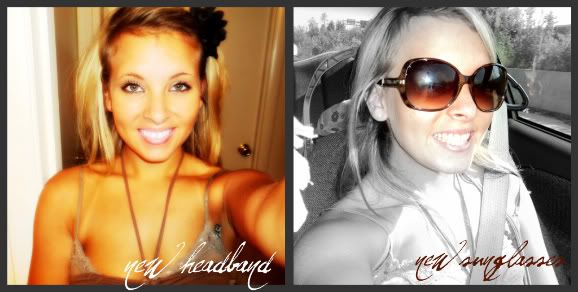 we came home for a quick baby girl nap & a mama mini cooking session. i thew together a spinach dip bread bowl, and seriously..it was delicious & only took me 10 minutes to make. i'm proud! after we got some rest, we stopped by our friend Christina's, little sister Michelle's graduation party. it was mostly a family thing..but i guess we're kind family. christina & i have been close friends since we were 12, and most of her family hasn't met abby yet..so that was exciting! i threw back a cheeseburger, abby had a deviled egg & we spent an hour or so catching up..then we headed out to the howard county fair.
i wish that i could describe in words how much i love fairs. their so summery, and...perfect. i look forward to them year 'round. last summer we weren't able to make it since i was 8 months pregnant and the size of a house, but as i missed out on cute baby pigs & freshly squeezed lemon-aid, i sat at home with my feet kicked up smiling. because i knew that this time the following year, i would be at the fair, with an almost year old little girl, loving life.
oh how right i was.



***********friday night: snuggle baby
abby slept in bed with us until she was about 2 months old. i would have done it longer, but she kind of out grew us and was more comfortable and seemed to sleep better stretching out in her swing next to our bed. i've tried a couple nights to sneak her into bed with us, but it never works. she always just wants to play. so last night when she woke up in the middle of the night, and i carried her into our room to change her diaper on our bed, and she rolled right over..head on the pillow and all..and went straight back to sleep..i melted. i couldn't stand to move her. i ran out & got jake and we stood over the bed & smiled and giggled over how cute she was for a good 10 minutes. i moved her to the middle of the bed, expecting her to get up since she's
such
a light sleeper normally..but nope! she opened her eyes, stretched..and sunk right back under the covers to dream land. she's probably never been so comfortable in her life! on our fresh sheets & pillow top mattress, fluffy pillows & down comforter & breezy fans..she was out like a light. jake and i slipped under the covers on each side of her..we laughed and smiled at each other some more in the dimly lit room..then we fell asleep. all 3 of us, right there..cuddled up in bed and loving the living poop out of each other. oh, how i adore her.
*****************
sunday: baptism, friends, and great family
up early again this morning..but only for a beautiful cause. we dedicated our little girl today at our town church, with the best pastor around. he came all the way from deleware just to baptise my baby, and i couldn't have been more pleased with his ceremony. he relates Jesus to every day life..things we all go through, which i think is neat & unique. he also served in viatnam & was a baltimore city police officer..he's been through his fair share of hardships & is extremely down to earth, and can relate to the average joe. which i think is very important. thank you reverend douglas for all that you do.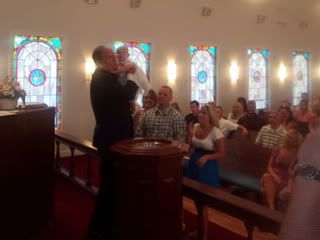 i must say, it was a bit embarrassing when he asked jake and i how long we had been married in the middle of the service..
umm, we're not married yet.
the whole church roared with laughter as we kind of caught him off guard, but..it was funny..i guess.
and the most very best, best part of the whole day? my amazing family and friends. it's so rare that we're all together..but oh when we are, let the good times roll. jake and i are
so
lucky to have such awesome people in ours and abby's life. i can never stress enough how blessed i am to have such wonderful friends, who have stuck by me 150% through everything in life. my dear best, best friend jackie, and now officially abby's godmother..who i can call 3am when ever i need her & she will be there, who will tell me the honest to god truth no matter the circumstances, who held my hand and cried with me when i held that positive pregnancy test back in january 2009..she's been there through it all & i have no idea where i would be without her...or any of these people, for that matter.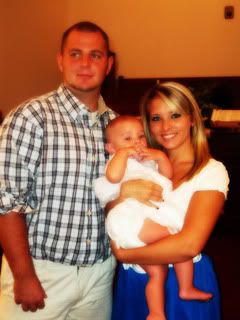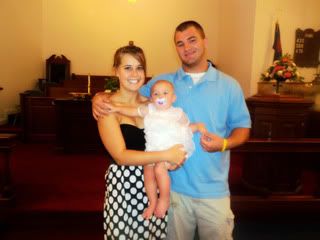 after the service we all gathered at my mom's house for good laughs & good food.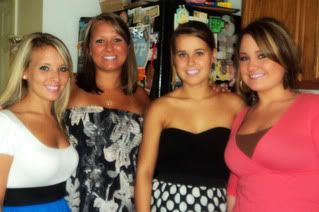 God bless my family, friends, daughter, and amazing boyfriend ♥
*************************
right now:
i'm tired. you could of guessed it right? i'm always tired. but just like every other time i say it..
its so worth it.
for now..i'm finally enjoying some vegging out time on the couch for as long as my heavy eye lids can take it. then i'll crawl into bed with my man, doze off to dream land, hear an ungodly
beep! beep! beep! beep!
at a whopping 5:00am and i'll be off to work again. boo :(
but right now..i'm thanking god. it's been a long time since i've sat through a church service (well, attempted with a 10 month old) but i'm glad that i did. it was a nice refresher about what's important in life. reverend douglas said this line today
when god opens a door for us, we're supposed to step through that door & achieve at all levels. you will achieve at all expectations because god has sent you on that path and he is there to guide you. but, none of us ever take that path. because we're afraid. we're afraid we'll never make it....
i just can't seem to get it out of my head. i'm not sure if my "door" is nursing, or photography. or both? so tonight, aside from praying for abby and friends and family..i pray that god send me a sign of what the hell i'm supposed to do with my life because i'm about
this
close to loosing it if i don't figure it out for myself soon :/
night for now.