No one was joking when they said you'll be tired for the whole first year of your little one's life. I read through my posts & there so many blogs about how tired I am! I'm not complaining, because all the sleepless nights and early mornings are
so
worth. But today is another one of those days where I'm super sleepy.
Work has made my schedule really weird this week. I work 3, 12 hour shifts a week..and usually I try to knock all three out in a row so that way I have the next 4days home with Abby. For some strange reason, they switched things up & have me working every other day. I worked Tuesday, off Wednesday, worked Thursday, off Friday, worked Saturday, off today..and back tomorrow. I hate it! Working 12 hours totally drains me & my first day off after a shift I usually spend lounging & joining Abby for every nap..but then my next day off I'm rejuvenated & ready to rock. I haven't had that extra day to recuperate this week and I'm definitely feeling it!
************************************************
Friday: Jason Aldean Concert
I was reluctant about going to the show, as I talked about in my last post. Thank you, thank you heart of mine, who was being tugged from both directions..thank you for making me go.
I'm so glad I went.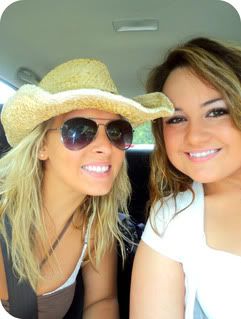 I didn't realize how much I
needed
a night out with my three best girls. Sure, Jake and I have went out with friends a time or two since Abby's been born..but just us girls? It's been so long.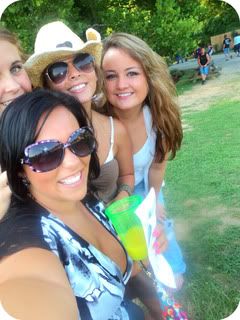 We started out tailgating in the lot with a bunch of other country girls & country boys. I was a party pooper and had 4 jello shots and a few sips of parrot bay and grapefruit juice..and felt nauseous and had to go sit in the car with the AC and a bag of chips (lol! typical mother) and during that time I got to talk to my sweet man who played mommy for the night and was giving Abby her bedtime bath as we spoke.
The next 2 hours were spent running into the woods 3 times for pee breaks, along with a million other tipsy Jason fans. There was country music blastin' from all directions, cowboy boots & cowboy hats from every truck bed, tons of laughing and reminiscing about old times, singing, and just an awesome time and indescribable fun.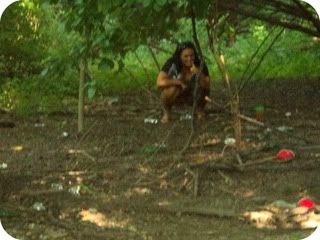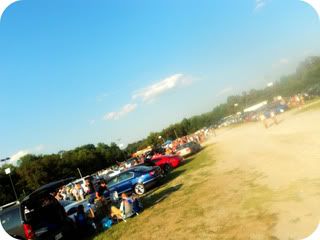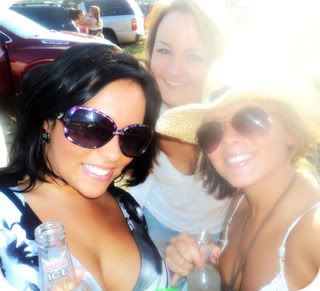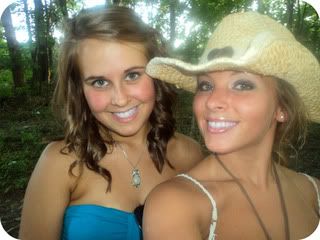 Once the show was getting started it felt like hours before the actual "concert" started. We still had fun, sittin on the lawn & sippin ice cold bud light lime bottles. Even more laughs than before at Whitney who slipped on a piece of paper and dropped her
whole
beer on a woman who we literally thought was going to murder her..a situation I can seriously still laugh
extremely
hard at. Even funnier we had to sit right behind her & look at her soaking wet shirt and pissed off face for the next hour. Sorry lady, it was hilarious.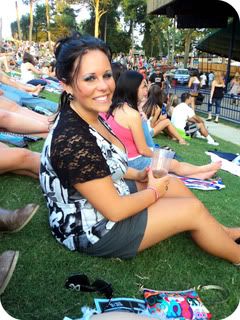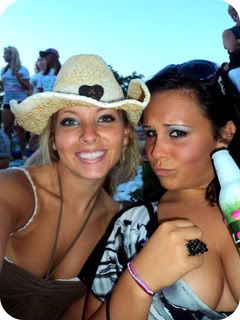 After an hour or two of budlight limes, chicken tenders and sneaking into the men's bathroom because the women's line was far too long..Jason Aldean's opener, David Nail took stage. He's still new, so not many of us knew a lot of his songs..but once he played his biggest hit "Red Light"..the whole crowd went crazy. We sang right along with every word as he announced
I have goosebumps all over Maryland
Then, it happened. Jackie and I took our pavilion seats & the man I have been madly in love with for 4 years stood right in front of me.
I don't think I've ever screamed so loud in my life. We didn't even take the time to take any pictures besides this one on her cell :)
We stood on our chairs and sang along, threw our hands in the air & danced like no one was watching as he rocked out "Johnny Cash" and "She's Country"..then I almost melted to the ground when he started strumming the tune of "Why" on his guitar..I was so excited, people turned around to see who was making all the noise. It's seriously probably in my top 5 favorite songs of all time. I rocked out. I rocked out
hard
baby.
At intermission we headed back to the lawn with our friends. Honestly, that was
much
more fun. All four of us sang at the top of our lungs, danced together..Whitney danced with a drunk woman behind us, Christina and I sernated each other during numerous songs, Jackie and I shook our booties and clapped our hands like we were in the club..
it was a blast.
Seriously, the most fun I've had in
such
a long time.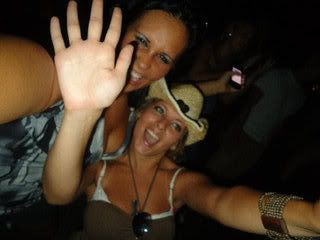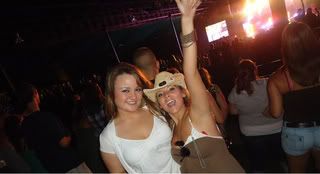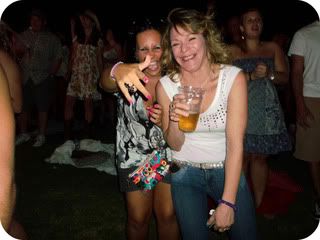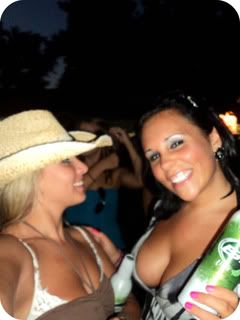 We all went crazy once Jason left the stage..and then came back for an encore with "Big Green Tractor"
every one's
favorite. We hung our arms around each other and swung back and forth, and swore that we'd never go to another concert ever again without any of each other. We have officially started a tradition.
Once we were all heading out they played Bob Marley & my crazy friend hula danced with unknown by passers and kept the show rolling. We ran into Jackie's ex boyfriend (also one of Jake's best friends) who was obviously
way
too drunk to drive and some how Jackie and I ended up with him in our backseat.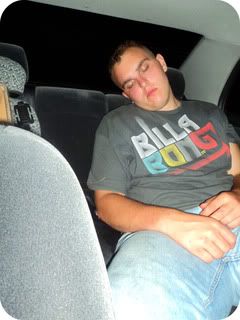 The three of us got
so
lost. It was an adventure, but it was fun..as frustrating as it was.
I made it home around 2am, snuck into Abby's room and scooped her up for a late night snuggle and then crawled into bed with my man and honestly thought
i love my life
. I'm so lucky to have such a kind and understanding boyfriend who lets me have the best of both worlds every once in a while, a little girl who is 100x better than any concert who I'm just blessed enough to spend every day with, and seriously
the best friends
in the world. The four of us have been best friends since we all met in 7th grade when we were 12, and I truly believe..that we always will be ♥