Another morning and afternoon spent at the beach today. Seriously, I could do this every day. Especially now that I have Jake here with me. We all laughed and loved and just enjoyed each other. This time Abby decided to take her extra long nap
at
the beach. Which was quite convenient for mama, I got to work on my sun tan! The tide was way out today, making this weird but perfect little pool at the coast that my Aunt and I sat our sun chairs right in and sunk our toes in the wet sand. We squealed like little girls when a big wave would come & almost knock us over, and then laughed so hard at each other trying to not float away we almost peed :p Abby woke up & her big cousins dug her, her own little pool to play in..which she just loved, of course. & Can I just say how much I love having Jake here with us now? I
really really
love him.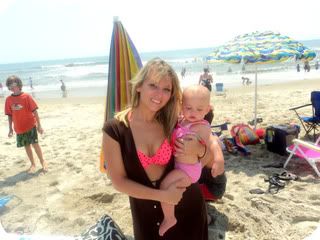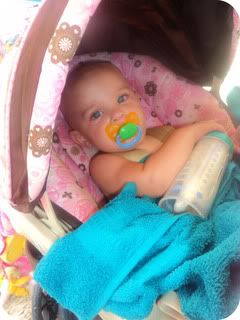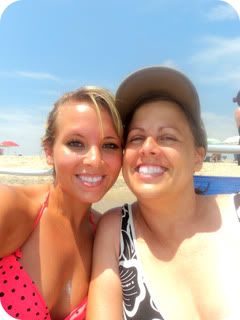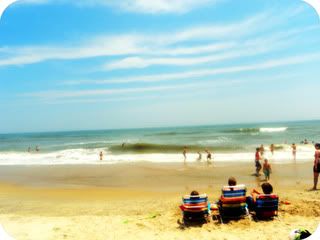 After we all got cleaned off Jake and Abby and I decided to head down to main street to check out the town.
I want to live here. I want to live here.
I want to live here! It's so cute & small and it's always what I dreamed of myself raising a family in. A cute, small, every-one-dies-famous-in-a-small town type place. This is it. And it's on the beach? Even better. I want to live in an old, but nice and big southern house on main street. A street where American flags are hung by every light post, where you can just stroll the streets and see pictures and crafts for display..rather than a man in a suit fussing into his cell phone. Where people park their tractors in their driveway, where there's cute little beach shops filled with paintings and funky t shirts and cowboy hats and old used books, where your local movie theater looks like it was built in 1950 but is still up & running and showing two shows a day at 3 and 7, where there's adorable little southern tables set up outside coffee shops with warm welcoming smiles from your friendly neighbors, where there's an old ice cream parlor..an ice cream parlor that's run out of someones house, where you can walk in the streets with your baby because no cars will come zooming by..and if they do, their going slow enough and just kindly go around you, and smile and wave as they pass. This is the way life should be. The city life is not for me. I'm a southern girl at heart and this little town has just amped up that inner Dolly Parton more than you could ever know.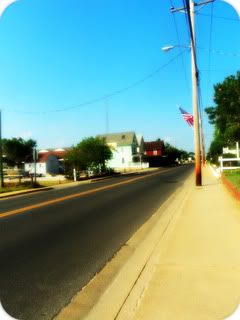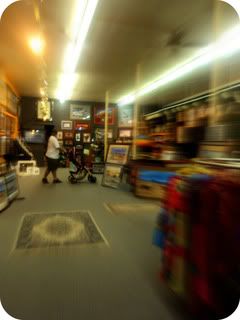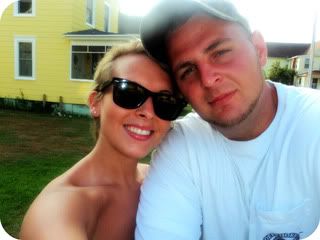 We belong here. & Clearly Abby agrees ;)
Later on the whole group headed out on the town & went down to the local arcade. They had go karts, games, moon bounces, climbing walls..every one had a great time..besides my little one. I think the sun has gotten to her these past couple days, and she's just really freaking exhausted. We've been doing so much & she's just not used to it. She was super sleepy the whole time we were there, I felt so bad for her. I snuggled her up and followed the crowed around as they won prizes and zipped up the climbing walls like they were spider man. There were times here & there where she'd laugh and giggle and point and have fun..you could tell she really
wanted
to have fun but she was just too tuckered out, poor baby.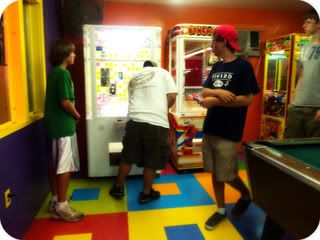 Every one was headed to go get ice cream afterwards & my little cousin Joey decided he was with Abby - sleepy and fussy. They were all on bikes, and the line for the ice cream shop was
super
long and Jake hates long lines..so he offered to ride Joey back home so he could get Abby in bed..and I would just ride Joey's bike home. Well, yeah. I haven't rode a bike in about 5 years, and it was very entertaining (to say the least) when I was first getting started. People laughed and pointed as I waddled across the intersection because I was too afraid I'd tip over if I tried to cycle across. Once I got going..
I loved it.
My aunt and I fell behind the crowd and were just wheeling around under the summer stars. I did pretty good I must say! The only times I almost crashed were because I was laughing so damn hard. It was
so
windy and I made some comment about how I felt like I was in the wizard of oz, and we both burst out into huge, hard, belly laughs as I hummed the "witch on the bike scene" music and she shrieked out
I'll get you my pretty, and your little dog too!
It was extremely hilarious & I'm still laughing thinking about it. It was fun.
The fun ended quickly once we got closer to the house. We noticed that every one was still outside, and I thought it was really strange that Jake, Abby, and Joey were all still sitting in my car. It wasn't long before we realized that we were locked out. Thank
goodness
there was an after hours on call service that was able to bring us a key. But in the mean time while we were waiting, I stood outside of the car while Abby and Joey sat inside in the AC..sweaty with frizzing hair & getting eaten alive by 1000's of mosquitoes..because that's whats moms do.
It's been
so
much fun spending time here with my Aunt's family, so I'm kind of bummed to say we'll be leaving in the morning to go another island close to here to spend some time with my mom & step dad for the rest of the week. I'm bummed, but excited at the same time. &
really
hoping they have some sort of wifi hook up :)
We shall see what adventures tomorrow brings :)