*Sigh* our last full day. Our last day at the beach. Our last night out on the town. Oh thank goodness it was a perfect end to a fantastic vacation.
My aunt's family came over from the cute beach town to spend the day with us, which was an awesome surprise! I missed them a lot quite frankly & their company added to the wonderful people who were already here just made the day that much sweeter :)
We spent the day at the beach again, soaking up the sun & enjoying life together. My step dad even came & he hates the beach (who the heck hates the beach!?) we dug for sand crabs, dived in and out of waves. I love the ocean. I really freaking love the ocean, I'd rather swim in the ocean than my own blue back yard pool (if I had one) I love feeling the sand beneath my feet, I love the waves..gosh I love the waves..I even like getting wiped out & how hard it makes every one laugh. I love the freeness of being in the open water. I love it all and I'll say it again: I wish I could do this every single day of my life.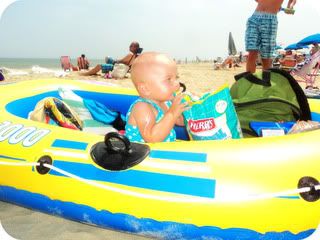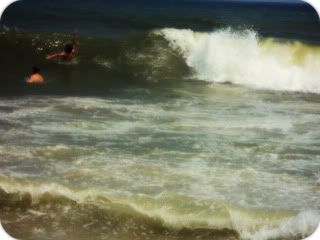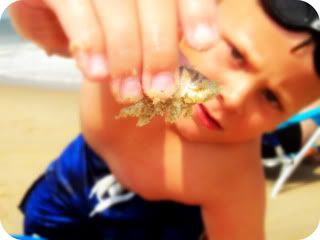 Dinner tonight was at the Crab Bag. Worst.choice.ever. Kind of. Our waiter was nice, but sucked & hit me in the head with a full size beach umbrella! Our food took well over two hours, my little brother was over tired & starving, Abby was sick of the high chair & the only thing keeping her happy was her cup of water which I'm pretty sure would of make her sick if she had anymore...but it was a good time, I guess you could say. We all laughed & joked about how crazy the whole situation was. It was an outdoor place, picnic tables in the sand type place which I usually love but the tables were so crammed together it was just ridiculous. We were constantly bumping into other customers..but at least we could all laugh about it. They didn't have a kids menu, so the only thing that was suitable for Abby was a giant $12 plate of macaroni & cheese, but hey..she loved it. Our food finally came & it was delicious. I got snow crab legs which were just mouth watering, and the waiter I guess felt bad and brought us a whole platter of grilled corn on the cob which was just to die for, he didn't charge Jake for his clams casino, either. Abby was done & luckily the place we were at was only a couple blocks from our house..so her & I headed back home before every one else. Turns out after I left the bus-boys threw away Jake's not even touched half of chicken which he was waiting for a box for. He was pretty mad, to say the least.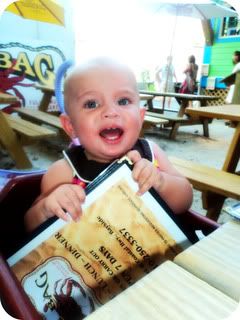 We all went down to boardwalk afterwards & let me just tell you...the time spent there made up for the crazy dinner. I knew Abigail was tired and worn out from earlier..so I kept my fingers crossed that she'd make out okay. She did wonderfully. Since I knew she was so sleepy, I clicked her infant carseat in her full size stroller, like we did when she was a newborn..and she was so comfy looking I wanted to crawl in with her. With her big pacie mouth & warm bottle, a nice warm-but-cool-enough-for-summer blanket, and huge heavily blinking eyes..just trying to stay up so she could take it all in. She held out for a good 45 minutes, and I was half way tempted to take her out to ride some mini rides, but its a good thing I didn't because the next thing I knew I looked down & she was sound asleep..such a sweet, sweet girl. She slept soundly and comfortably the rest of the outing, it was so peaceful.
Later my cousin some how convinced me to get on the Slingshot ride with him. It's a little ball that gets shot 225ft into the air over the beach and ocean. I've done it twice before, once with my friend Jessica when I was 15 & once at senior week when I was 17..but for some reason this time around I was so much more nervous. But, I did it. & It was fun. I'm glad I still have a little bit of a wild streak in me ;)
We got home & I knew Abby needed a diaper change & I really wanted to put some more comfortable clothes on her, so i awoke my sleepy girl and let me just tell you..I've never sen her so sleepy. She didn't even want me to put her down. She laid back to get changed and went to sleep mid diaper change. I think this whole week has finally taken it's sleepy toll on her, as it has us all.
Goodnight sweet baby girl. Mommy loves you so incredibly much.