The worst part about vacation is always coming home. Although the ride back always seems to go
much
quicker - your left with a weeks worth of cleaning to do & mounds of laundry to do and things to unpack. We've been lazy since we got home..so none of this has even been questioned until today when I woke up & decided I didn't have a choice but to start scrubbin' & sweepin'
I can't believe I'm about to do this..but have a look at our just-back-from-vacation & not-feeling-like-doing-a-damn-thing apartment.
...Yikes!
I got things moving & although I had a little girl who
insisted
on making more mess or doing this: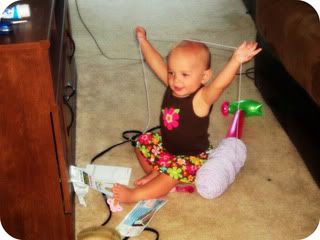 ...I was able to get the majority of the house work done before noon. Afterwards: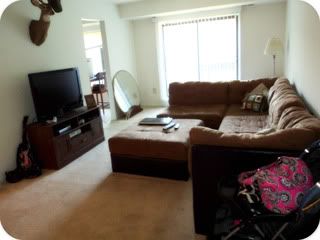 I hate cleaning. But Jake is right. When it comes 1oclock & Abby goes down for her afternoon nap, I do feel so much more refreshed & rejuivinzed sipping my tea or coffee on freshly fluffed couch pillows & freshly vaccumed carpet, and watching my shows on a freshly dusted TV ;)
After Abby's nap I noticed a weird rash on her ankles and feet. I examined her more & noticed that it was also on her belly..arms, and head. I immediately checked her temp & it was a low grade 100.1..hmm. I called her ped who wanted to see her to rule out Chicken Pox. Well, it turns out she's apparently in the clear. I'm not completely convinced yet..but she apparently thinks that since the rash started on her lower extremities & went upward..it's probably not the pox, and since the bumps aren't pussing or itchy yet then their probably not chicken pox. She thinks she must of either got some bug bites or had a virus & the virus broke out in a rash. But, I don't know how she could of gotten 20 bug bites today, since we were just hanging around the house & she hasn't even been sick. So I'm kind of stumped, but her ped thinks its nothing to worry about. My mommy instincts are telling me something else is going on, but we'll see how she feels in a couple days. I could just be over reacting & being a worry wart first time mama..but like I said, we'll see!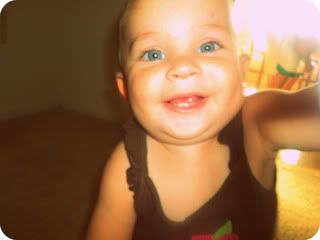 Doesn't seem to be bothering her much though, eh?